---
I want to see this man quoted on the back of the next KilHoman release, in the style of Ardbeg's Expressions of Delight - "No nonsense, no flannel, no pish"
---
Cask Strength Gold Member
Posts: 4943
Joined: Mon Apr 17, 2006 9:16 am
Lovely presentation as well. Thanks to the lovely people at LFW.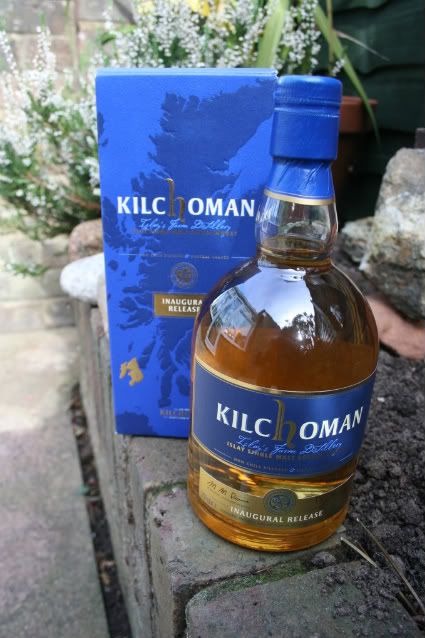 ---
Bronze Member
Posts: 104
Joined: Sun Sep 13, 2009 12:16 pm
I've purchased a sample of the Kilchoman at whiskysamples.eu.

I don't have it yet but I'm looking forward to taste it.
---
I was disappointed by it, but I guess most people like peat bombs more than I do. I'm looking forward to a 10yo version though.
---
I finally tasted this smoky newbie at Black Door pub here in Helsinki on tuesday night. Smoky,peaty, tarry, fruity, bourbony, very fresh, very well balanced dram. I love this stuff, it´s quite hard to belive that this is only 3 years old, 7 or more years in cask...wow, hard to wait.
---
I got quite a lot of eau-de-vie on the nose and licorice in the taste, but it is very hot and spirity.

There's promise there, but this isn't a particularly great whisky in my opinion, more a curiosity right now than anything else. However, it isn't as one-dimensional as some of the youthful malts from Islay recently released.

Strongly peated whisky does seem to be the flavour du jour so I reckon they'll do alright and that's good to see as on my couple of visits I got the impression of a real craft approach.
---
---
Who is online
Users browsing this forum: No registered users and 10 guests